Specialty acts, bands, and more…
Interactive entertainment with a tropical flare.
Bring the Islands to your venue!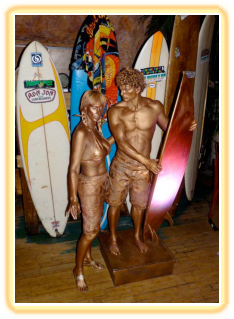 Imagine taking your picture next to a beautiful sculpture, only to find that the sculpture has come to life and is trying to grab your bags! Audiences will be amazed as our human sculptures remain completely still for various lengths of time, providing beauty and class to the room. Be careful taking pictures however, because these amazing statues may come to life at any moment creating havoc and laughs for everyone watching.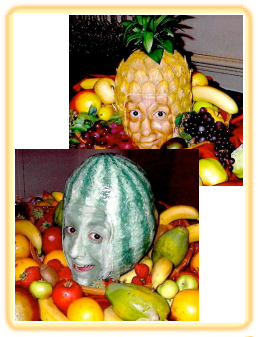 Your event will be the talk of the grocery store as our hilarious Watermelon and Pineapple Heads crack on your guests. Our hilarious improvisational actors weren't taught table manners and will use their quick wit to bring tears of laughter to everyone who walks by. A truly unique entertainment idea that will be talked about for years to come.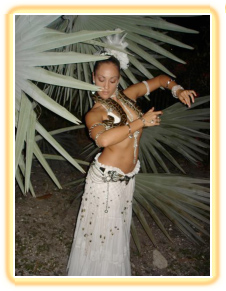 The Everglades are infested with Snakes, and our daring and beautiful snake wrangler will give you an up and close view of these intimidating creatures.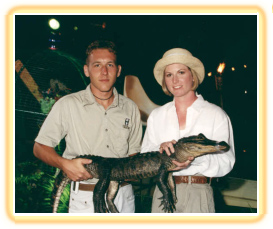 This is the real thing! Our professional gator handler will let you get more than too close to one of the most ferocious reptiles in the world! Not only is this a great photo opportunity, but our trainers will give you fascinating information about alligators, crocodiles, snakes, or anything else that makes your heart beat faster!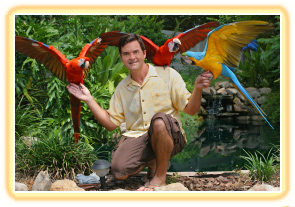 Add some color and beauty to your event with the Birdman! Tim is a professional bird trainer and will bring several of his feathered friends to meet you up close and personal. His trio of Parrots each has their own talents and are available for pictures. Some talk, some deliver messages, and others just look pretty. Tim will educate your guests and has extensive experience with large crowds having worked in the world's largest theme parks.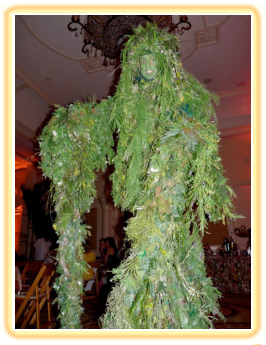 Who knows what lurks in the shadowy undergrowth of the murky bog….
Your guests will gasp when this creature comes to life! This perfectly camouflaged beast will thrill your guests and make them jump! Add some B-movie hilarity to the festivities with this Swamp Thang!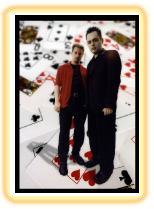 Your guests will be captivated and amazed as our "New York" style magicians perform unbelievable close-up magic.

We don't use the term "Tattoo Artist" lightly. This talented team of artists will provide beautiful templates of your company logo or anything else you desire to be airbrushed onto your arm, leg, or…wherever! Don't worry about showing up at your meeting the next day with a scorpion on your neck, as they wash off with soap and water.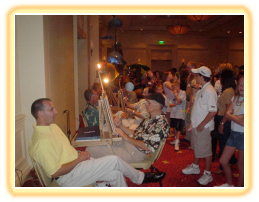 These guys and gals are good. Direct from Orlando theme parks, people from across the world have enjoyed oversized pictures of themselves, drawn by these amazing talents.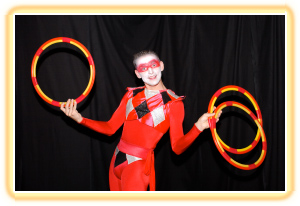 A carnival isn't a carnival without jugglers. Our amazing jugglers juggle everything from tennis balls to bowling balls! Our featured artist is Banks Helfrich, who has found recent fame on "Late Night with David Letterman" on CBS television. Banks has recently appeared on 4 episodes demonstrating the unusual skill of bouncing on an 18-foot high ball!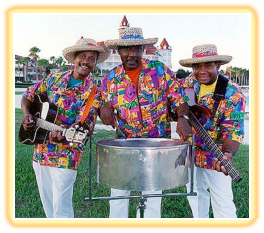 From the Islands, our 2-3 piece Steel Drum musicians will create an easygoing, relaxed, island atmosphere as they fill the air with tropical rhythms.

Our hilarious pantomime artists have become local celebrities performing at Sea World in Orlando. Your guests will have to be careful about what they do and how they look, as these comedians have a way of making fun of any imperfection they can detect!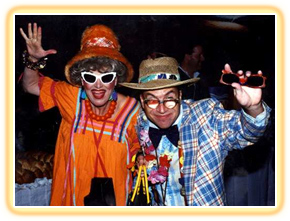 Ever have gum stuck to your shoe? Here are the tacky tourists who attach themselves to any party and won't let go. Our loud talking, name-dropping, picture taking, tacky tourists will crash your party… and it's the highlight of their vacation!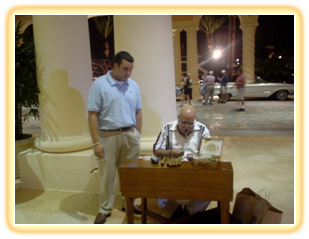 Bring a taste of Havana to your event with our authentic Cigar Roller. This rare artist will hand roll cigars for your guests using the finest tobacco leaves. You may add our attractive Cigar Hostess, dressed in tropical attire, to interact with your guests and pass out fine cigars!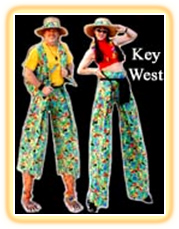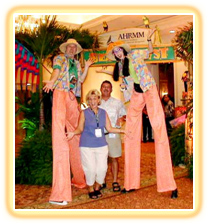 The one act everyone will look up to! Our well-balanced Stilt Walkers will keep the party going, as they mingle, take photos, make balloon animals, and dance the night away with your guests. Each hour they will reveal a new character including "Key West", "Mardi Gras", and "Carnivale". These athletic entertainers have made hundreds of corporate appearances, and can be seen at Universal Studios Mardi Gras celebrations each year.

If tattoos aren't your style, perhaps a palm tree on the cheek is more your speed. Kids and adults will line up has our face painters turn your face into a canvas of color.

The future may look good, but why wait to find out? Our entertaining team for Fortunetellers will use their special skills to give your guests the good news of the future that awaits them, through Tarot Card and Crystal Ball readings.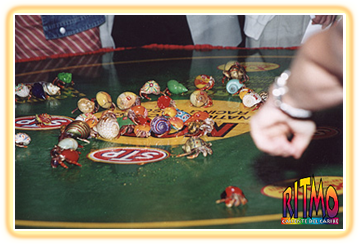 The ultimate inter-active entertainment for your next corporate meeting or party. Upwards of one hundred racing crabs available for sponsorship. Everyone selects their own racer, and names it. It's total involvement as everyone and their racer are introduced to one another in a high intensity, competitive situation. The show format can be customized to fit your group's particular needs. From a one-hour cocktail gathering to several 20 minutes sets thru out the event (as for picnics where other things are taking place during the day). Everyone walks away with a souvenir of the event!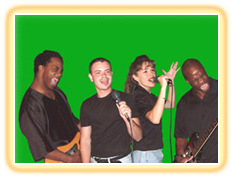 Your guests will have the opportunity to get their "Big Break" with our "MTV Make Your Own Music Video Show". This unique, interactive experience will make your guests the stars of the evening. Just select a song from our large library of music, step in front of our green screen (up to 4 people at a time), and belt out your favorite song! The audience will watch your performance on a video monitor as we magically superimpose a pre-selected background behind you. After your standing ovation, you will get your own VHS copy of your performance as a momento of this memorable evening. This entertaining show has toured around the country for MTV and has been the highlight of many corporate parties. See it live on the upcoming nationally televised VH-1 Music Awards.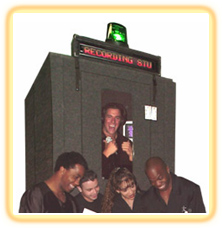 The next Bono or Celine Dion may be discovered at your event with our Mobile Recording Booth. This compact, air-conditioned room will fit up to 2 people at a time. Choose from our list of hundreds of songs, and in seconds you'll have your recording burned on a CD! We can add your logo and the name of your event to the label, so your guests will always remember where it all began before they made it big!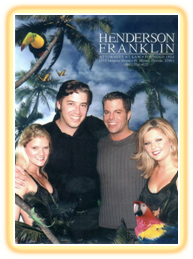 Our Digital Snapshots will be a sure hit at your event and are a great addition or alternative to a traditional photographer. Your guests may take pictures with our Celebrities, or with friends, in front of any predetermined background. Just step in front of our green screen and we'll magically superimpose the background of your choice. We can put you on the boardwalk in Key West, on a beach, or on a tropical island, far, far away, We'll even add your company logo! Instantly, each guest will get a high quality digital photo to take home!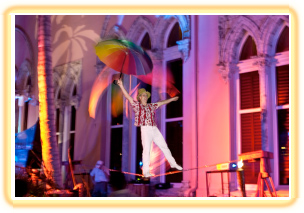 Novelty acts and street performers have made the famous Mallory Square a world-renowned experience on the "Must See" list of many tourists. Our expert Tight Rope walker will bring the sunset Key West festivities to your event with skill, grace, and a little comedy!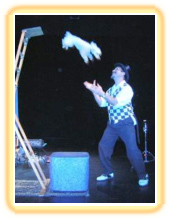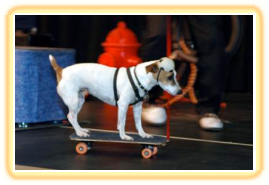 A fast paced, high-energy comedy dog act, suitable for all ages.
Either as atmosphere or a 45-minute stage show, The Tricky Dog Show is the perfect entertainment for a festive event in need of quality comedy entertainment.
Originating on the streets of Mallory Square starring five little Terriers, one Poodle and their pet human Rick Martin,
The Crazy Dogs Show guarantees riotous laughter every time. You'll be amazed as these dogs flip, balance, climb ladders, skateboard and much more. Not to mention they're house trained!

Let Dr. Cardoo cast an enchanting spell on your guests. No Tropical party would be complete without a visit from a VooDoo witch doctor! Don't let the straw skirt and painted face scare you! This dynamic strolling sleight of hand artist only deals in Good Mojo! Dr. Cardoo provides the best in interactive magic and is the perfect greeter for any voodoo or island themed party! With his use of tribal magic paraphernalia and flash paper, he is guaranteed to excite and enthrall your guests!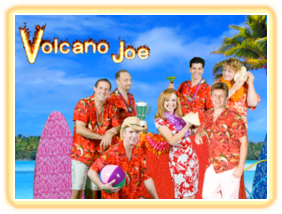 Get ready for an explosion of unusual proportions! Volcano Joe & The Hot Lava Band have burst onto the scene with the hottest beach party music around! Party- goers have been sighted dancing wildly to the sounds of Jimmy Buffett, The Beach Boys, and the Beatles, along with Caribbean favorites and all of the great party songs from the 60's through the 90's. Good times flow as Volcano Joe leads your guests in an unforgettable beach ball volleyball game on the dance floor, a one-of-a-kind conch blowing contest, and, of course, a first-class conga line!


A NEW captivating and innovative party entertainment is taking the U.S. by storm. DANCING HEADS will keep guests of all ages entertained and coming back for more! Not just lip-synching, not just karaoke. DANCING HEADS superimposes participants' heads on professional dancers' bodies while they sing along to some of the greatest pop hits of all time. The outrageous effect is completed with fully animated backgrounds. Monitors allow delighted viewers to watch participants become singing, dancing stars! It's hilarious, mesmerizing, and the hit of the party! Fun-filled entertainment for everyone! Each guests receives a DVD copy to enjoy at home. Create an event they'll never forget with DANCING HEADS! Available for Personal and Corporate events, Trade Shows, School events, and Fairs & Festivals.



Bring the laid back sounds of an island paradise to your event with the care-free songs of the Beach Boys, Jimmy Buffet, and other tropical concoctions featuring the Margarita Boys. This talented blend of performers will bring a tropical wave of musical selections that will serve as a pleasant backdrop to your event. Sing your favorite songs with the band or dance in the sand as they encourage guests to get into the groove!
The Margarita Boys have performed for corporate functions throughout Florida and major theme parks