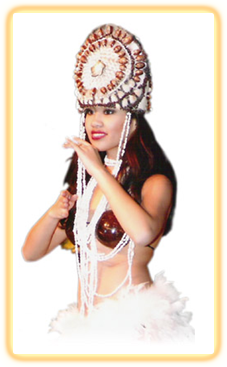 Soft, relaxing sounds of paradise can be heard in the back ground as your guests enjoy coffee and dessert in anticipation of show time. Then it Happens! The house lights begin to dim...the stage lights slowly come to light...and the drums begin what will be an evening unlike anything you can imagine! You will soon hear the sounds of the conch shell and the traditional Hawaiian welcome of A.L.O.H.A! as ShowTime begins. For the next hour all your cares in the world will be forgotten. Our beautifully costumed Polynesian entertainers take everyone present on a journey of song and dance throughout the enchanting islands of the South Pacific.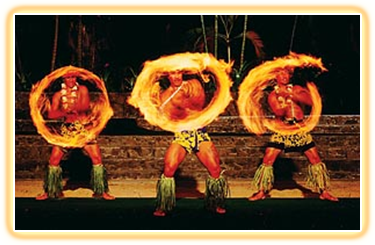 You will visit such intriguing places as Tahiti, Samoa, Hawaii and much, much, more... Our Polynesian maidens appear in a succession of authentic and custom made costume changes as they transport your guests through a variety of exciting cultures. The beauty and grace of the various island dances and the show stopping Samoan Fire Knife Dance will delight your guests!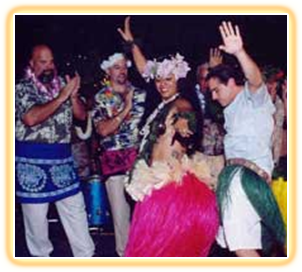 Our experienced and audience friendly host will smoothly guide your guests through the revue with his knowledge of island traditions, customs, and comical stories. Some of your guests will even get involved, if they so desire, being dressed in a grass skirt and taught the Hula and Tahitian Tamure!
It can be poolside…a group of three or a troop of twenty…fiftteen minutes or an hour. It's time to let your imagination become a reality!  The magic of the South Seas will enchant guests of all ages and backgrounds.  Choose from our many packages: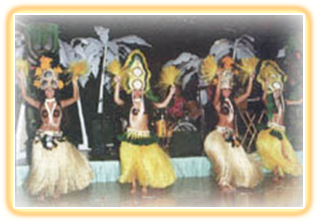 Our complete Revue of eleven entertainers. A full cast that includes five of our female dancers, two of our male dancers, and a four piece band that will create an exciting, comical, and entertaining evening in the South Pacific.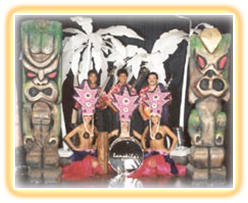 Our most popular package includes a cast of seven. Three female dancers, one male dancer, and our trio of musicians.  Best for group of 100 or more.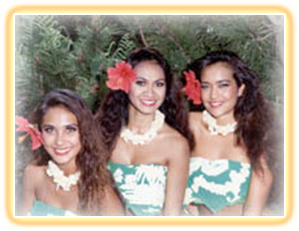 Our Hibiscus package, another popular package of ours includes three Polynesian maidens and two of our musicians (one of which is also a fire knife dancer)
Best for budget conscious audiences.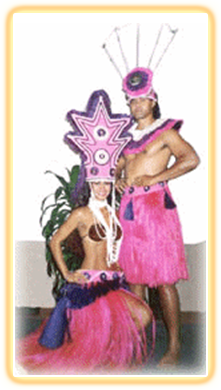 A combination of any three: A poolside trio...two musicians and one hula dancer...one musician and two hula dancer etc. This package is geared for atmosphere type events.